Other BDSM Links
Please help keep this website free to you by clicking on the banners. I've personally checked out these sites and the products they offer and assure you that they are quality sites. Thank you!

Orginizations
Females Investigating Sexual Terrain (F.I.S.T.)
Lifestyle Choices Legal Defense Fund
Powersurge Women only BDSM Event in Seattle over Labor Day weekend!
SLLAP - Southern Leather Lesbians At Play
SmOdyssey, A Journey Into BDSM

Internet Resources
Alternate Sources Search Engine for Alternate Sexuality Communities
Bad Attitude The Ultimate Lesbian S/m Magazine
Daedalus Publishing Company Erotic Literature

Dominant Women Support Group
DS Kiosk IRC D/s Resources
Dungeon.net BDSM search engine
English Palace BBS and Webpage
Lee Stranahan Fine Art Erotica
Heterosexual Male Dominant A Personal page with Great Links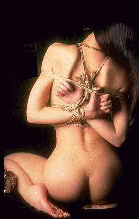 International Ms. Leather
Leather Cellar Chateau Women Owned S/m Toy Business
Leather Toys

Leather Navigator Queer Leather& Bear Community

Mr. S Leather Leather shop in San Francisco - Male-centric, but with fun toys for all genders and orientations

On Your Knees Now Affordable restraints and associated hardware

Own Me Devoted to Sexual Slavery

Sex Related Mailing Lists & NewsGroups

SubNation Information and Resources for submissives

Women Who Administer Punishment, WHAP!
The Index of the Adult Internet