This is a site designed for enlightened adults.

Adults, it is your responsibility to monitor what your children are doing on the internet, not the United States Government. If you are unable to sit with your children while they are online, please consider installing one of the internet blocking programs. They certainly are not perfect and won't provide the education and communication that you as a parent can provide regarding the sites that are blocked by these programs, but it is certainly better than having the entire country's right to free speech online eliminated because of a few "objectional" webpages.




By entering the Craving web page, I certify that I am 21 years of age or older, and do not reside in a jurisdiction that prohibits the viewing of sexually-oriented material.

However, if you are under 21, if adult material offends you, if you are accessing Crave from any country or locale where such material is specifically prohibited by law, or you simply do not wish to view this, please don't enter!

Enter by clicking the Submit button if you agree with the above statement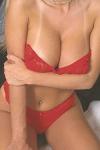 | | |
| --- | --- |
| | This Submissive Heart WebRing site is owned by crave |